In Episode #5 of THE GATHERING, we looked at the magical dance of creativity in the life of an entrepreneur.
Amanda Nazzal , Chris-Anne Donnelly and I all circled up to share our tips and tricks to call in our creative muse and ways to bring our big dreams to life.
We invited Amanda to join us because creativity is at the heart of her business.  As a photographer and brand stylist at www.amandanazzal.com, she teaches heart-centered entrepreneurs and conscious creatives how to take their OWN stunning photos for their biz and blog.
Tips and Tools mentioned to support creativity and productivity:
Do a morning or weekly "braindump" to clear your mind

Create a "Parking Lot" doc to store ideas for later

Use "Voice to Type" on phone and google docs to capture ideas

Clean your physical space

Create Rituals – meditation, yoga, movement, oracle cards

Limit time on social media and comparisonitis

Find an accountability partner that "gets" you and holds space

Be consistent / practice

Make a plan – Leonie's Dawsons Weekly Diary / Planner is magic

Infuse PLAY into your work

Trust and enjoy the process / journey
Amanda's Nazzal's FREE photography course can be found here!
BTW – This week we hosted on Zoom because Blab was being beta buggy.  Good thing we are all such go-with-the-flow kind of ladies!
---

Will you join us for our next conversation?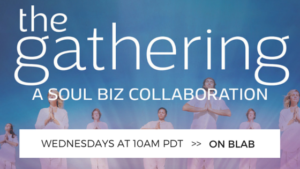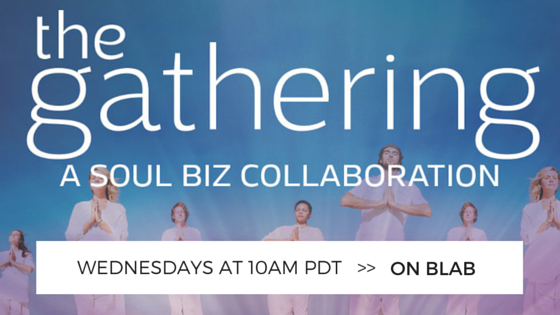 THE GATHERING is a weekly Blab where soulful entrepreneurs come together to explore + collaborate + share learnings and wisdom around growing a sacred business. Where we rise up together!  You can learn more about how and why we started THE GATHERING here.
Chris-Anne Donnelly (www.chris-anne.com) and I invite you to join in every Wednesday at 10am (PDT) on Blab.im to take part in the conversation!
If you aren't familiar with Blab yet, let me give you the quick low down. Basically it's a casual and easy place on the internet where people can show up to chat with each other about ANYTHING.  The beauty is that it's simple (my fav word).
You will have to sign up (free) with Twitter or Facebook and it literally takes 5 seconds. It's highly advised that you use Chrome as your browser.
We'd love to hear about a time when sisterhood, collaboration or vulnerability opened the doors of opportunity for YOU!  
Let us know in the comments below.