Mindful Marketing for Gentle Souls
Now more than ever, the world needs you!
But many tender-heart entrepreneurs, like you, aren't sharing their magic fully because they are afraid of coming off as fake or too pushy – and it can often feel like TOO MUCH. 
And they're exhausted from trying to do it all on their own – on the verge of giving up on their dreams because they feel like they don't have what it takes to be seen and heard in this confusing and busy online world.
#GOODNEWS
You don't have to sacrifice your soul to sell your services.
Instead, let's focus on these key elements  to help you shine your brilliance and use your own unique powers of connection to attract your dream clients.
Human-to-Human Messaging
Resonance, relating and trust are essential. Sincerity boosts sales.
True-to-You Branding
Authenticity and honesty fosters trust. People work with people they share values with..
Soul-Aligned Plan
Purpose guides Action. Your deeper "why" motivates and provides a consistent message that resonates .
Your Inner Wisdom
It provides guidance, sparks innovation, supports well-being, keeps you connected to your purpose and knows the way.
.
SERVICES
Soul-aligned
branding

+ feel-good

marketing
that's honest, resonant and simple.

honest + resonant + simple +
honest + resonant + simple +
honest + resonant + simple +
Download your FREE Soulful Biz Planner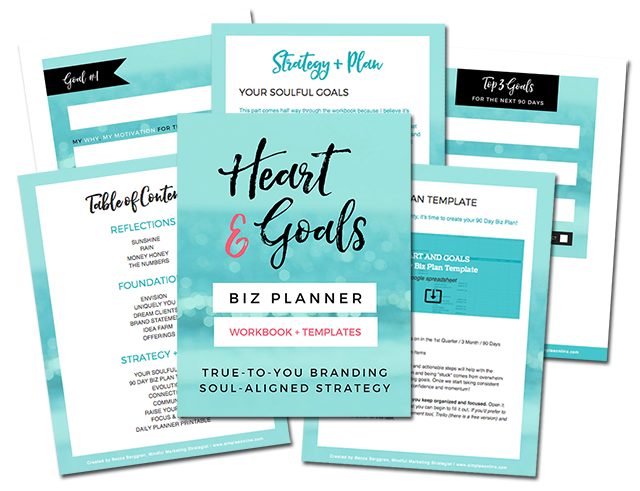 Hi! I'm Becca.
Mindful Marketing Strategist & Brand Therapist infatuated with branding, mindfulness and simplicity.
I help the coaches, healers and creatives who'd rather stay hidden behind the scenes design a clear path to calling in their kindred clients with integrity and ease.
If you have introverted tendencies + big beautiful dreams but no solid plan to bring them to life that feels GOOD +  a love for the woo – we'll get along great.
Expect some strategy & manifesting mash-ups, tender-hearted unearthing of your essence combined with step-by-step plans to "do the thing".
Learn More
""Becca made me feel so supported throughout the process and was a steadfast guide and champion when I slipped into indecision. I felt like I was talking to an old friend who totally "got" me and what I was trying to create.""

Michelle Leath

Live and Eat Fearlessly.
""I have never felt so completely understood . Becca is smart, compassionate, ethical, very creative and most importantly - fun! I have accomplished more in the last 3 months working with Becca than I did in a year of coaching with other people.""

Allie Hill

Empowered Living Coach
""Since I started working with Becca I have experienced exponential expansion! We've followed an organized path infused with her "down-to-earthness" and strong creative business mind.""

Marie Vickers

Feng Shui Space Stylist