Working with Becca is the best business decision I've made in the last 5 years. I have accomplished more in the last 3 months working with Becca, than I did in a year of coaching with other people. She has an insane ability to hone into exactly what I need and deliver it 1000%! I have never felt so completely understood and had someone propel me forward so quickly and effortlessly. She is smart, compassionate, ethical, very creative and most importantly – fun! We did a ton of work in very little time and it never felt like work. PLUS Becca really cares.  She genuinely wants you to be successful and reach your full potential.   I now have a beautiful new website that completely reflects me and my brand AND she helped me launch my very successful Desire Map Workshop. Allie Hill
I was drowning in an endless sea of marketing have-to's.  I was overwhelmed and overworking…yet directionless and frustrated.  My ship was going down.  Simplee Online to the rescue!  In 45 efficiently packed minutes, Becca identified my best next business strategy and then outlined the simple steps for me to take to get moving immediately.  She made it easy for me to take action.   Becca made my business fun again! Some coaches can give you great tips on how to move forward.  Some coaches can help you embrace your confidence to know you can get it done.  And some coaches can infuse your business with positivity and flow.  Becca does 'em all. Layne Alexander
Becca is an awesome combination of heart/soul and savvyness/knowledge.  I was looking for a business coach with a "soulful" approach but didn't want to compromise any of the dependability, competence, knowledge, etc. With her, I didn't have to. She was a great guide as I began my journey as a brand spanking new business owner. I didn't know where to start, I was overwhelmed and Becca made the experience much less stressful and more manageable as she guided me step-by-step. She also helped me develop a really strong foundation and answer the following crucial questions- What was my branding style? How did I want to present myself to the world? Who was my ideal client?  This was a very fulfilling process and crucial in the beginning to move forward with certainty and purpose. I would highly recommend Becca to whoever seeks a no-nonsense and soulful approach to business coaching. Dr. Christina Martinez
Working with Becca has been the SMARTEST thing I've done for my business, hands down. One of her Superpowers is the uncanny ability to really "get" you. She has a brilliant eye for design, and knows how to fine-tune the look and "feel" of your branding and messaging just right….to fully express YOU and the value you offer to your clients. Not only is she incredibly creative, talented, and resourceful, she won't rest until high quality results have been achieved. She is a wise and dynamic coach who gently empowers you to elevate your biz to the next level, by providing tools and strategies that will give you the edge you need. Best of all, she genuinely gets excited WITH you about your project. And that is powerful medicine! Seriously, don't even hesitate to hire her! Kristyn Caetano
It's business, but it's very personal; and Becca has this magic that seamlessly connects the two.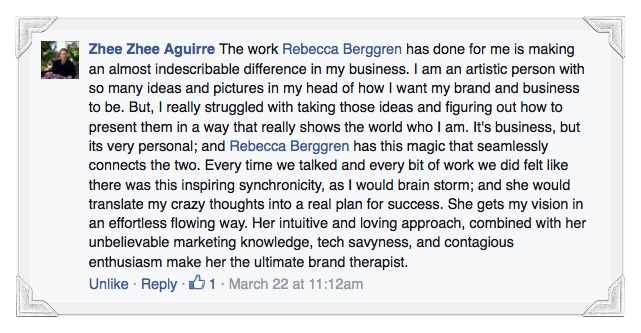 Zhee Zhee Aguirre
Before working with Becca, I was headed in a million different directions. She helped me redirect my focus onto what's really important and guided me step by step with her cute action "love notes'. We got more done in two sessions than I could've hope to accomplished over several weeks all by myself. Hiring her has saved me a lot of time and energy figuring out what to do and what not to do.  I am having my Grand Opening 4 months sooner than I had planned and all that thanks to her advice, resources and push of confidence. Becca is focused, to the point, and has a wealth of information to share yet is super fun and friendly to work with. I felt like I was working with my best friend crafting our dream business together.  She also has an ability to really get people, to understand what they need, and feel and point them the right direction. She was able to help bring out the best of ME and infuse it into my brand. She kept me on track but also put all her heart and passion into our work – that's so unique now a days. She genuinely wants you to succeed. Becca went above and beyond my expectations. Nawel Benaissa
I hired Becca as the website and social media guru for my life coaching business when I was first starting out. What a RELIEF to be in professional hands! She worked with me to define a scope of work for both of us, was my go-to for ALL things marketing and technical and she did beautiful, meticulous graphics work as well as effective social media work– helping me professionalize my website, create and optimize a blog and design and integrate my newsletter, facebook page and much more. She is a delight to work with and I will most certainly seek her services again when I decide to take my business to the next level. Thank you, Becca! Stephanie Napoli
Before working with Becca, I was hesitant to hire a marketing coach because I didn't know what costs were involved and what to expect. I can now say that her fees are very fair and she is well worth it. The results are fantastic!
  When we first started working together, I was very reluctant to write anything.  Now with Becca's encouragement and guidance, I've been able to find my voice on my blog! Becca has a strong knowledge of the industry, a million great ideas, she's very flexible and pleasant to work with.  After our sessions, I feel so inspired and excited by all of her great ideas and suggestions. She even sends a helpful follow-up list that makes my assignments less overwhelming. She's so positive, encouraging, a wonderful sounding board and I've really learned a lot from her.  I definitely recommend that you give her a call! Robbie Maynard
I hired Becca to completely rework my social media marketing and networking and online presence. She was incredible to work with from the very beginning, because of her ability to interpret, understand and then fully create and implement the vision that I had for my business. She has a solid marketing background and excellent cutting edge knowledge of online and social media networking concepts. She is very creative, INVENTIVE,and has great ideas that further rounded out my goals. She is extremely easy to work with and does amazing work. Elisabeth Caetano
Becca's joy of living, availability to explore and desire to bring the world her best, are contagious! She has developed a communion of her extensive professional skills, life experience and her own Real Beauty, as a practical service.  Her fluency in the language of marketing, self-confidence and enthusiasm for the journey with her clients create a potent environment for personal discovery, appropriate solutions and freedom. I'm more accessible to the world having worked with her.  Endless thanks! Amelia Roache
Becca has proven herself as a strategist / visionary / coach / mentor / thought partner skilled in empowering and helping people to focus and identify their vision.  Her special talent lies in making the most complex scenario or project look simplistic so that you can't help but embrace the journey! As an extraordinary listener and business professional with unlimited talent, expertise, and great insight – I give her a golden stamp of approval! Liza Oviedo
Join my newsletter and
DOWNLOAD YOUR FREE
HEART AND GOALS BIZ PLANNER
30 Page workbook with templates + prompts.
Uncover Your Brand Message
Create Your Dream Client Profile
Set Your Soul-Aligned Goals
Map out Your 90 Day Biz Plan
Download FREE Biz Planner